Darrell Whiteman is a missiological anthropologist, passionate about helping people in diverse cultures connect the Gospel and biblical values to the deepest part of their worldview. His teaching on "Crossing Cultural Barriers with the Gospel" has taken him to 78 countries and the training of thousands of missionaries and church workers.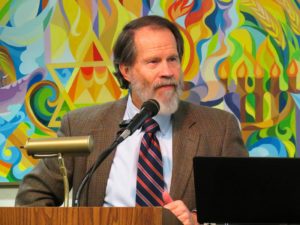 After serving as a United Methodist missionary in Papua New Guinea and the Solomon Islands, Darrell was professor of cultural anthropology and later dean of the E. Stanley Jones School of World Mission and Evangelism at Asbury Theological Seminary for 21 years, and Vice President and Resident Missiologist at The Mission Society in Atlanta, Georgia for nine years. He recently served as the interim executive director of the Overseas Ministries Study Center in New Haven, and adjunct professor at Yale Divinity School. He served on the board of trustees of the American Bible Society for 27 years. He is the past president of the American Society of Missiology as well as the International Association for Mission Studies. He has authored and edited five books, including World Mission in the Wesleyan Spirit.
Dr. Whiteman is frequently invited to teach and train people all over the world who are engaged in many types of cross-cultural ministry and development, and yet who often lack this cross-cultural and incarnational perspective in their work. This simple yet foundational message has proven time and again to have a profound and life-changing impact on those who participate in this teaching and training. Unfortunately however, in most of these places they don't have access to this message, or the resources to bring international teachers and trainers like Dr. Whiteman – hence the launching of Global Development, Inc.
Darrell lives in Gig Harbor, Washington with his wife, Laurie, of 49 years.
---
Watch below:
Darrell Whiteman, "My Journey in Mission" recorded June 2019 at the American Society of Missiology annual meeting at Notre Dame. Virtual Visiting Professor, Global Theological Education, Perkins School of Theology, Southern Methodist University.